Japanese Jujutsu Classes in Ann Arbor
In 1988, armed with a master's degree in English and a few dollars, Nicklaus Suino set out for Tokyo. After a 14-hour flight, a 2-hour train ride, and a 20-minute ride in a friend's Nissan, he arrived in time for dinner, a beer, and a long night's sleep!
One of the first things he did was reach out to Sato Shizuya, the leader of a martial arts system called "Nihon Jujutsu." The words mean "Japanese Self-Defense Art." Suino and his longtime friend John Gage trained with Sato-Sensei at the Judo Club located within the American Embassy Housing Compound. They often attended classes three times a week, spending as long as 8-10 hours training on Saturdays before venturing into the nightlife district of Roppongi.
Much food and many beverages were consumed! But mostly, the two talked at great length about the arts they were studying. While Gage pursued jujutsu, judo, aikido and karate, Suino focused on jujutsu, judo, iaido, and kyudo. Gage became the top student of Sato-Sensei and remained in the Tokyo area for nearly 30 years before returning to Ann Arbor to help instruct at JMAC.
Suino stayed in Tokyo for four years, winning event after event in iaido and returning to the US as one of the most prominent and decorated swordsmen of the early 1990s.
Self-Defense, Fitness, Mental Focus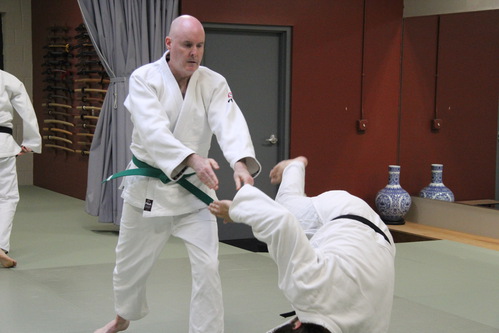 Japanese Jujutsu Classes in Ann Arbor at JMAC
If you're looking for Japanese jujutsu in Ann Arbor, JMAC is your top choice. Suino-Sensei started JMAC in 2006 with the help of a handful of investors. The dojo quickly became a place for serious but joyful martial arts training. These two friends lead one of the finest dojos in North America. You can choose from several legitimate Japanese martial arts systems and train with a group of dedicated, safe, thoughtful people who work on improving themselves in every class.
A New Generation of Martial Arts Legends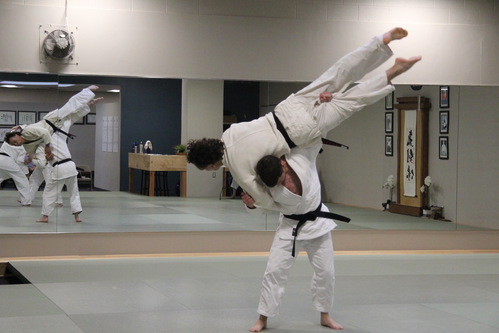 Sato-Sensei passed away in 2011, leaving Gage-Sensei as the de facto inheritor of the Nihon Jujutsu system. Gage returned to Ann Arbor in 2015 and now leads many of the advanced jujutsu and judo classes. His knowledge is deep and his attention to detail is extreme. He's known worldwide as an authority in Nihon Jujutsu and frequently travels to Europe to work with martial artists in Spain, Portugal, Denmark, Germany and France.
Suino's primary iaido teacher – Yamaguchi Katsuo Sensei – achieved the highest possible rank and title in iaido – 10th dan Meijin. It's more or less the equivalent of a national treasure designation within the elite martial arts circles. Yamaguchi-Sensei passed away in 2006, after having requested that Suino lead the way in their unique, powerful style of Eishin-Ryu iaido. Suino has trained hundreds of swordspeople throughout the US, and leads a small cadre of intense iaido players at JMAC.
The Sound of One Jujutsu Player Falling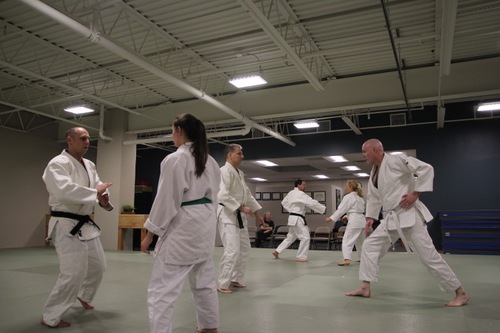 A well-known karate fighter in Canada once said that "the only way to know what it's like to get punched in the face is … to get punched in the face!" The same could be said for jujutsu. The only real way to know how it feels to get your wrist twisted then be tossed on the ground is to experience it. The good news? You get to do it back!
Jujutsu is an amazing combination of physical skill and mental achievement. The techniques are organized around sets of principles. They're typically made up of a combination of parts that Suino calls "core thematic movements." There are a lot of these movements, but they're not unlimited, so you can master them over time and become very skilled at takedowns, throws, pins, chokes and submissions.
Come for the Jujutsu, Stay for the People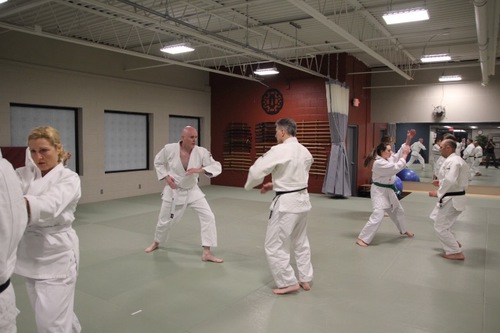 The number of people we have who have started at JMAC and who are still with us after seven, ten or even 14 years is amazing. They stay because the martial art becomes part of who they are, and the people become their circle of friends. There's nothing like slamming your friends to the mat to build long term friendships!
The best way to get a feel for jujutsu training at JMAC is to come to watch a class. If you like what you see, you can sign up for your two free intro lessons. You'll learn the etiquette, safe falling skills, and the basic stepping and defensive movements. When you sign up for a trial membership, you'll be prepared to make it through the class. From there on, it's all uphill!
Contact Us, Call us at (7340 720-0330 or stop in today to watch a jujutsu class at JMAC!
"Excellent martial arts education! Very happy that our son is enjoying his training and development in Karate at JMAC. The instructors are wonderful and the environment is conducive to learning! Great job JMAC!" - Alfredo S.
Read more of our Reviews
Japanese Martial Arts Center
Japanese Nihon Jujutsu Classes in Ann Arbor