Martial Arts For Kids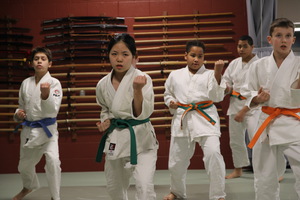 Parents call us almost every day to ask about our kids martial arts programs. The most frequent questions we get asked are:
Can you help my child focus?

Can you teach my child some discipline? or

My child is getting bullied at school. Can you help?
It's very common to wonder about whether martial arts will be good for your child, and maybe if karate or judo will offer your child something he or she won't get in school or while playing with friends.
Wouldn't it be helpful for you to stop in and watch a kids martial arts class with your child to make sure the environment is positive and safe? Wouldn't it be helpful if you knew what your child will experience, and that they wouldn't be asked to do anything dangerous or violent, but would get in shape, learn good values, and develop habits to help them succeed at home and in the world?
Most of our instructors are parents, too, and like you we hope our children will develop their full potential, have a great self image, and be able to apply focus and patience to achieving their aims in life. We'd all love it if our kids were healthy and respectful at home, too.
We teach kids in a very carefully developed, thoughtful way. We disguise most of the learning as fun, and we vary the rhythm of class to keep them interested. You'll see how our kids are learning to move well, to pay attention to their instructors, and to love the learning process. Most days, you'll be able to see a range of abilities, from the newcomer who is often shy and who has trouble doing the stances and movements, to the child who has been attending for a year or two who moves sharply, pays attention, and who is beginning to become a role model for the other kids. When you and your child have seen a class and you're ready for your child to try it out, you can set up the private intro lessons with one of our black belt instructors.
The first step in developing young martial artists is to help them learn to love the experience. The second step is to let them feel the connection between joyful practice and accomplishment. The third step is to pay close attention and make sure we're giving them what they need to feel engaged, and what they need to feel they're making progress. We've carefully developed our program to follow this plan, and it really pays off for the kids at JMAC. We think you'll be delighted to watch your child grow, too!
Frequently Asked Questions
My child has trouble focusing. Can you teach him (or her)?
Yes! Almost every child who comes to our classes has trouble focusing at first. Some still struggle with focus (they're kids, after all). But the energy level in our classes along with the varied tempo and volume really helps kids pay attention.
My child is disrespectful at home. Can you help?
Yes! We help make respect a fun and energetic part of training. Rather than demanding respect, we try to earn it, and the kids at JMAC respond very well.
Will my child get locked into a long contract when they start?
No! After your child's intro lessons, we'll ask you to sign them up for a membership. The membership is one year, but you can opt out any time in the first 60 days. That 60-day period gives you lots of time to make sure training at JMAC will work for you and your child. It also gives us a chance to assess your child and let you know if our program will be a good fit.
How to Get Your Child Started in Kids Martial Arts
We'd love to have you and your child watch a class at our dojo. Call us at (734) 645-6441 to arrange a time to visit or to get your questions answered. If you're more comfortable with email, you can reach us at info@japanesemartialartscenter.com.