Stephen Morris Sensei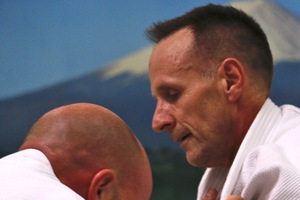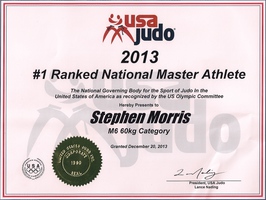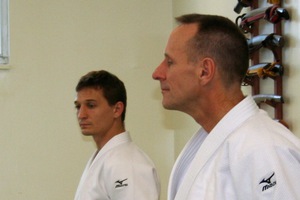 Stephen Morris was born in Wyoming but came to Ann Arbor, Michigan, as a child and has been here through school, college, parenthood, and now, grandparenthood. Having traveled extensively as a young man, Morris returned home to Ann Arbor and the University of Michigan where he graduated Phi Beta Kappa in Education. He also worked an assortment of jobs including auto mechanic, musician, and movie projectionist, before finding his true calling in teaching middle school. He is particularly interested in exploring connections between good teaching in the classroom and good teaching in the martial arts.
Morris has been training and teaching Martial Arts for over 30 years. He began as a student of traditional Okinawan Karatedo and within a few years was also training in Aikido and Judo. Morris had an epiphany of sorts while he was directing a children's class that integrated the arts of Judo, Aikido, and Karate. It became evident that Judo was the superior art for children because of the skills learned (falling safely, close fighting, dynamic balance), the tactile feedback, and the balance between structure and play. Karate seemed too rigid, Aikido too esoteric. It followed that, for the same reasons, Judo was a superior art for adults. Eventually Morris decided to join the Ann Arbor YMCA Judo club to focus all of his efforts on practicing and teaching Judo. In 2006 he joined the instructor staff at the Japanese Martial Arts Center, where he taught until 2016 before moving to Berkeley, California.
He is certified to teach, coach, and referee Judo by the USJF and USJI. In 2013, he and Holland-Sensei were gold medalists in the kata division of the US Judo Nationals at Virginia Beach. Also in 2013, Sensei Morris was awarded the "#1 Judoka Award" for his age and weight class.
RANKS
4th Dan Judo (SMAA)
3rd Dan Judo (USJF, USJI)
2nd Dan Aikido (IMAF, SMAA)
2nd Dan Shorin ryu Karatedo (IMAF, SMAA)
2nd Dan Shudokan Karatedo (IMAF, SMAA)
TITLES
Chief Instructor, Ann Arbor YMCA Judo Club (2004-2006)
Teaching Committee Chairman, Konan, USJF (2002-2005)
Instructor and dojo manager, Ann Arbor YMCA Judo Club (1999-2004)
Instructor of Karate and Aikido, Asian Martial Arts Studio (1985-1999)