John Gage Sensei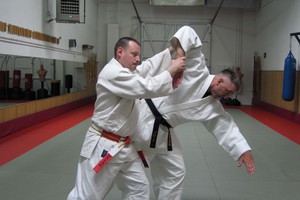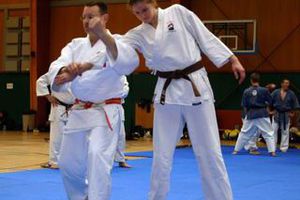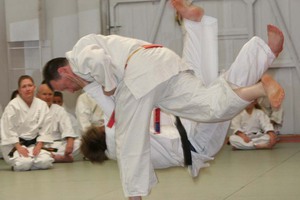 John Gage Sensei is one of the world's foremost non-Japanese leaders in traditional, heritage martial arts. He is the current head of the Nihon Jujutsu system founded by the late Sato-Shizuya Sensei (1929 – 2011), and is former Program Director at the US Embassy Judo Club in Tokyo, Japan. A lifelong passion for history, and things from faraway places, particularly the arts and culture of Japan, began at an early age for Gage Sensei. He started studying aikido at age seventeen and judo at nineteen.
In 1986, he moved to Japan in order to dedicate himself to the study of traditional Japanese martial arts. Upon arriving in Tokyo, Japan in 1986, Gage-Sensei joined the US Embassy Judo Club, under the direction of Sato Shizuya Sensei. He has also studied extensively at the Aikido Yoshinkan Honbu Dojo, under the direction of the famed Shioda Gozo Sensei (1915 – 1994), Aikido Meijin 10th Dan.
Gage-Sensei spent many years honing his understanding of the Japanese martial arts. He joined the All Japan Judo Federation, coached judo at Japanese Junior high schools, traveled around the world as an assistant to Sato Sensei at martial arts seminars in Europe and North America, and participated in countless martial arts exhibitions, and competitions in Japan. In 2015, Gage-Sensei returned to Ann Arbor and joined JMAC as one of our Senior Instructors.
Senior Instructor: Japanese Martial Arts Center
Director: Kokusai Budoin, International Martial Arts Federation: imaf.com
Shihan: Kokusai Budoin, IMAF Nihon Jujutsu Division
Chairman: International Nihon Jujutsu Association (日本柔術保存会・会長)
7th Dan, Kyoshi Nihon Jujutsu
4th Dan, Renshi Judo (IMAF)
3rd Dan, Judo (AJJF)
Director: Embassy Judo Club, Tokyo, Japan (2011 – 2015)
Secretary, International Section: Kokusai Budoin, IMAF
Senior Instructor: Japanese Martial Arts Center, Ann Arbor, MI USA
Member: All Japan Judo Federation
Member: Kisuikan Dojo Tokyo, Japan
Former Member, Yoshinkan Honbu Dojo, Tokyo Japan (1987 – 1994)
Former Member, All Japan Karate-do Federation, Tokyo, Japan (1998 – 2001)
Awards
1989: Kokusai Budoin, IMAF Budo Korosho (award for contributions to the martial arts)
1999: Kokusai Budoin, IMAF International Kata Contest 1st place
Publication & Information
2005 – present: imaf.com - Editor 

2009 – present: usejc.com - Editor
2010 – present: nihonjujutsu.com - Editor
1998: Nihon Jujutsu Manual - Contributor
1987 – present: IMAF Gendo newsletter – Editor