Women's Martial Arts in Ann Arbor at Japanese Martial Arts Center
For a long time, there was a perception that karate or martial arts training was a bit of a "boys only" activity. Thankfully, that notion is fading! There's been an increase over the years of women in martial arts. Shape did a nice article about why women should consider martial arts training. It can be a great way to improve your physical fitness, confidence, and focus. Students also enjoy the added benefits of real-world self-defense techniques.
Everyone who trains at JMAC has different reasons for coming. We asked some of our female students about what they loved about martial arts training, what brought them to JMAC, and any advice they had for other women looking to train in martial arts.
Finding the Right Place to Train Is Important
There are a lot of dojos available and finding the one that not only feels right but is also welcoming is important. To find the right dojo, Kat says, "Google. Look at their website, look at what people have to say, the good and the bad." Beth adds, "Top-notch training, welcoming environment, women treated as equals." "Visit possible dojos and ask questions," says Toni. Physically visiting the dojo will give you an idea of the class structure, how students and instructors interact. You'll know pretty quickly if it's a good fit for you.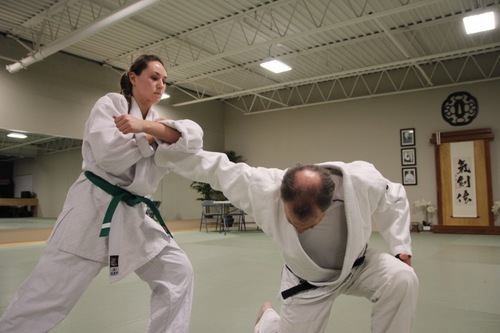 It's Perfectly Normal to Have Worries About Martial Arts Training
We all have reasons for wanting to try something. We also have worries or fears that keep us from trying. It's a natural experience. "The unknown," says Toni. "I had no background except watching my brother and niece a few times… and of course movies!" Amber adds "Would I be able to do it? Would I be embarrassed in front of more experienced students in class when/if I had trouble doing something?"
For some it may be trying something new – others it could be a physical condition that worries them. For Nyssa it was possible injuries to her shoulders that worried her. "I have had chronic pain in my shoulders for a while, and I didn't want to do anything to stress those muscles more than they already were." Nyssa says that expressing her worries to the instructors and them taking the time to understand and augment training was a big help. "Everyone was very supportive of my desire to try, but also very sensitive to my potential restrictions and wanted to help me progress in iaido without compromising my violin career."
Women's Martial Arts at JMAC
Nobody at JMAC rises alone. Finding a dojo that makes you comfortable, welcome, and confident is essential. Because our students come to the dojo for different reasons, they each have different things they love about training. "It's my distraction and my happy place," says Amber, "We get to learn from some of the best martial artists in the country, and in the world. Teachers and other students are there to help you get better, and to give you a boost from time to time when you need it."
On top of the character of the school and the quality of our instructors, Beth loves to train hard. "The quality of the classes, the community. And training hard. Working up a sweat, coming home tired and sore and still anticipating my next time on the mat."
For Toni, she loves the comradery of the dojo and the emphasis on safety as well as "structure, discipline, and respect of the core values in the dojo environment." As for the people who train with us she says, "people at JMAC are cool!"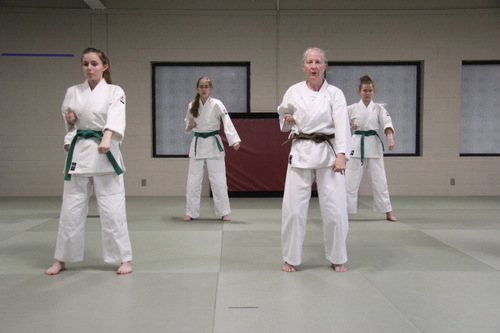 For Kat, it's getting the time to work with instructors in a one-on-one personalized capacity. "I've had the pleasure of working with Holland-Sensei over the past year. He is truly passionate about all that he teaches and practices, and is totally willing to work with me in order to figure out how to teach/describe what is normally a visually demonstrated action."
Come Visit & Watch A Class At JMAC!
Whether you're interested in learning self-defense, trying something new, or have always wanted to start martial arts training - visiting a dojo is important. Take a look at our schedule and see what class interests you. You'll be able to see how we train and the interactions between students and instructors. If you're excited, we can schedule your two free introductory lessons and get you started on your JMAC journey! Contact Us or give us a call at (734) 720-0330 to learn more.