I AM JMAC: Toni Stumpo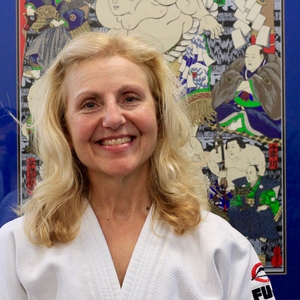 "I was intrigued with martial arts and put it on a list of things I was going to do some day."
A 6th grade science, physical education, and health teacher for Plymouth-Canton Schools, Toni has become an exciting and dynamic presence at JMAC. What started out as a "someday" goal has quickly grown into a passion. Toni started her training you were to ask her if she was happy with her decision to train at JMAC she'd tell you "Well, I am so glad I finally made the commitment!"
Outside of the Dojo, what are your hobbies and interests?
Currently, Toni is finishing her 33rd year as an educator but she doesn't spend all of her time in the classroom or at the dojo. "When I am not working or at JMAC I participate in triathlon events and usually take a week-long bike trip in Northern Michigan during the summer. I also enjoy hiking, traveling, strength training, horseback riding and volunteering."
In November of 2017, Toni decided to turn her "someday" dream of training in a martial art into an everyday reality. "I started training at JMAC in November 2017 and started training in Jujutsu. Although I had no prior training in martial arts, I have followed my brother and niece on their black belt journey for many years."
As an athletic person, she has always had an interest in staying active and fit and was confident in her athletic ability going into martial arts training. The one thing that's always true about martial arts training is that it can be a uniquely humbling experience. "As a lifelong athlete and very active person I was confident with some of my athletic ability when I signed up at JMAC. While that has been somewhat true, there have been many challenges in my training. The two most difficult challenges have been forward rolls and taking falls. It is important to be comfortable with both skills in order to be safe and keep classmates safe. Although I am much more confident now than I was a year ago, I continue to focus on improving both skills."
Do you have a favorite martial art style you like to train in?
"After studying Jujutsu for one year I added Judo to my training schedule. I am enjoying both at this time especially learning how closely both arts are intertwined. Adding Judo has helped to build my confidence and technique when performing the required skills and working with my classmates." While she's eager to try new styles, she's very comfortable focusing on Nihon Jujutsu and Judo for now.
One of the most fascinating aspects of martial arts training is how it can carry over into your personal and professional life. "I have found that I am much calmer at work and in other areas of my life. Instead of reacting to stressful situations I have a more thoughtful approach in even the most negative situations."
While Toni has many favorite moments and memories throughout her training journey at JMAC, one special event at the dojo stands out in front of all others. "One word: Crucible… Last May JMAC sponsored a 12-hour lock in that included training in Karate, Jujutsu and Judo as well as physical fitness activities. It was an amazing experience!"
What do you love about training at JMAC?
"The people…both the students and instructors are encouraging, supportive and fun! The level of instruction and attention to detail is outstanding. Even after a long, tiring day I look forward to being at JMAC."
Martial arts training may be challenging, but it's rewarding. You get out of it what you give. "Although this is one of the most challenging sports I have tried, it is by far one of the most rewarding in all areas of my life. I am so grateful to have the opportunity to train at JMAC."