Fitness Makes the Difference!
Ever notice how some people just seem to be able to get more done, day in and day out?
Do you have someone in your circle of friends who somehow stays more positive, whatever is going on around them?
What could it be that helps some people stay happier, healthier, more productive and more driven?
We've studied this, and one of the things that makes a real difference in the lives of real people is their fitness. Fitness makes the difference!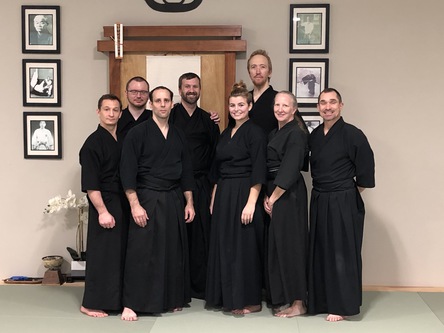 "Body, Mind and Spirit" Starts with "Body"
Humans were made to move. We explore our world as infants, and that's what helps connect our eyes to our brains, our hands to our eyes, and our minds to our bodies. It turns out that just because you're not an infant anymore, that doesn't mean you don't need to explore and move.
The way humans are wired means that we get a host of benefits from exercise. Sure, your biceps may get bigger, but more important, your mind settles down, your body produces helpful hormones, you burn calories, and, if you do it right, you develop a habit of positive activity that helps set you up for good days, weeks and months.
Be Intentional About Fitness
A common complaint about fitness is that "it's so boring!" That's true, if all you do is go to the gym and do a few bicep curls. A much better way to get and stay fit is to do activities with a lot of variation and complexity and engage your mind at the same time. For those reasons, we created two completely different types of workout at JMAC.
The lifeblood of JMAC is traditional Japanese martial arts, like judo, karate, jujutsu and iaido. In those classes, you train in complex new skills that involve your mind and body in many ways. There is long term, continuous learning that can deeply change the way you interact with the world. You get self-defense, focus, calmness, physical fitness, and a disciplined way to approach learning that can help in almost everything you do.
The other side of JMAC to help improve the fitness of Ann Arbor, Michigan area residents is the JMAC18, an 18-minute morning boot camp that helps get you in incredible shape and sets your attitude for the whole day. In the JMAC18, the intensity is more important than duration. Your workout, shower and change routine is 35 minutes or less! You'll build muscles, lose weight and get to work on time.
Whatever Form of Fitness You Choose, Try it Free at JMAC
To "test the waters" in our martial arts classes, just come in and watch one session. If it appeals to you, we'll set up your two free private intro lessons. Once you finish your intros, if you want to continue, you can sign up for a two-month trial membership. At the end of that time, you can become a full member, or just let us know you want to stop. We'll shake hands and we'll still be friends!
To try the JMAC18 morning boot camp, arrive at 7:30AM on a Monday, Wednesday or Friday. The timer starts running at around 7:36AM. At around 7:54AM, the boot camp is over!
The workout is a variation on HIIT (High-Intensity Interval Training). It's 50-second rounds with 10-second transitions. It's never the same workout twice. There are bodyweight exercises, kettlebells drills, sandbags, jump rope, pull-ups, agility, and much, much more!
Wear athletic clothing. We train barefoot but bring running shoes in case one of the stages is outside. Otherwise, only the desire to get started is required!
"Excellent martial arts education! Very happy that our son is enjoying his training and development in Karate at JMAC. The instructors are wonderful and the environment is conducive to learning! Great job JMAC!" - Alfredo S.
Read more of our Reviews
Fitness for Life Starts with Showing Up
So much of life is about showing up. If you're inspired to get started in martial arts or whip yourself into great, shape, show up at JMAC. Better physical health leads to more energy, a better outlook, and higher self-esteem.
It's amazing how much you can accomplish with small steps. Maybe changing your life is too much to think about. Or maybe you're a person constantly on the lookout for a more fulfilling life. JMAC has you covered either way.
Come join the friendly, positive people at JMAC. Incredible personal change comes with simple changes in your habits. Start with your body, get your mind right, and let your spirit soar.
Call us at 734-720-0330, Contact Us or stop in today to see how JMAC can help you bring your best self to light!
Japanese Martial Arts Center
Boot Camp Fitness in Ann Arbor, MI