Iaido
Learn the Secrets of Swordsmanship
If you like The Last Samurai, The Seven Samurai, 47 Ronin, or Samurai Assassin, you'll love the art of Iaido!
In The Last Samurai, Captain Algren had to leave the world he knew to overcome alcoholism and harden his spirit in the forge of bushido. He not only found his spiritual center, he found the love and loyalty of an extraordinary clan of people steeped in true Japanese budo culture. You can find the true Japanese martial arts experience at JMAC!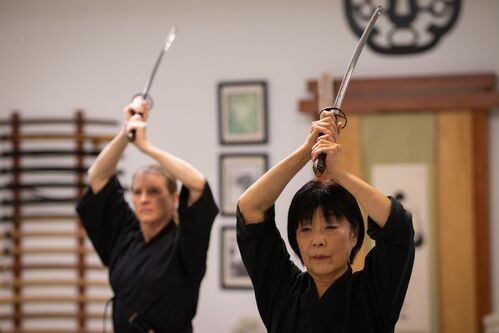 Iaido Ann Arbor - Spiritual Swordsmanship from Japan
Embark on a spiritual journey of your own. In a world where values such as honor, integrity and wisdom are rare, the heart of bushido still beats within the ancient art of iaido (pronounced "ee-eye-dough"). You can learn how to properly handle the katana while you refine your concentration, perception and presence in the moment. In the dojo you can leave adversity behind and find your center through seishin tanren (concentrated practice). Cut to the heart of your existence and you'll become a stronger, deeper version of yourself!
Iaido Ann Arbor - Legitimate Heritage Martial Arts
Our leader, Nicklaus Suino, was All-Tokyo Champion for four consecutive years between 1989 and 1992, competing against hundreds of Japanese in their native art of Iaido. He's written four books on Japanese martial arts and consults internationally on strategies for personal and professional growth using the principles of swordsmanship. He offers the profound spiritual path of Iaido to students in Ann Arbor, Michigan, at a tiny fraction of the cost of his professional seminars.
Iaido Ann Arbor - Embark on Your Personal Journey
Don't wait to embark on your journey to enlightenment. Come see the extraordinary training that can help YOU reach your best! Intro lessons are free. You have nothing to lose, and EVERYTHING to gain.
Call us at (734) 720-0330 or email us at JMAC today!