What do Members Say About The JMAC18?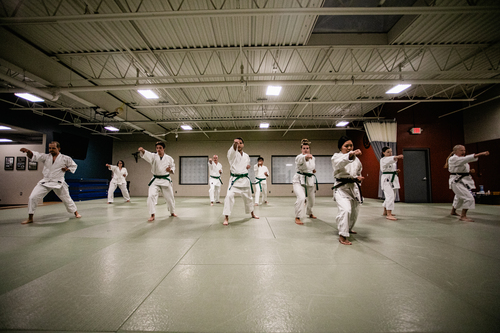 Staying healthy is on everybody's mind these days. One of the best things you can do to stay healthy overall is exercise, but pandemic regulations make it difficult to find a gym or class you're comfortable with that also provides a great workout. Maybe you've wondered:
Where can I find a great fitness program I can do from home?
Could martial arts classes be right for me?
Or,
How do I know if I've found the right program when in-person workouts are limited for now?
If you're struggling to find the right workout in the right place in pandemic conditions, you're not alone! We understand how important it is to find a place where you feel comfortable and connected while getting a great workout and staying safe.
To find out if JMAC is right for you, try a free intro lesson via Zoom or in-person (wearing masks and maintaining distance). JMAC offers lots of martial arts and self-defense classes, as well as the JMAC18 – a short but intense bootcamp workout. We're confident we have something you'll like, and we know without a doubt that our instructors and members are dedicated and welcoming. For now, because of pandemic regulations – and for our members' health – we offer classes via Zoom and video, and private lessons in person.
We could list all the reasons we think you'll love JMAC, but wouldn't you rather hear it from our members? Here's what a few of them had to say about the JMAC18:
Member Reviews
J - Just Awesome
M - Makes Exercising Fun
A - Always Worth It
C - Cool People
18 - Only 18 Minutes
– Toni S.
The JMAC18 is a quick, explosive 18-minute workout performed at 7:36 Monday, Wednesday and Friday. The time and duration are perfect to squeeze in an intense workout prior to a long day of work with each session providing a different combination of exercises/techniques. The convenience is second-to-none as it can be performed at home via Zoom or at JMAC (once COVID restrictions are lifted). I leave the JMAC18 sweaty, breathing hard and energized.
– Mike M.
The JMAC 18 has been a godsend, both before and during the pandemic. There is a camaraderie that you build when everyone works hard together, even when it happens to be remotely over Zoom! Every MWF that I'm not working overnight, I get myself up to get a brief yet intense workout. Every time is different, so you never know what's coming. Every workout is structured so that if you need to modify it due to variations in strength, conditioning, or any injury, it's ok and encouraged. The goal is to get healthier, not hurt yourself. I find that after a workout, I have more energy and motivation to be productive for the rest of the day. I feel more happy and calm and that's definitely something we need to "spread" to others in these challenging times.
– Dr. John E.
JMAC18 is a great way to start the day! Fits right before we have to get the kids to Zoom school and get to work myself. I always feel better and am way more productive after a JMAC18. And it's a great way to keep in touch with dojo-mates that I haven't seen in person since early in the year.
– Dr. Dan L.
JMAC has become a huge part of my family, from teaching discipline and life lessons to my kids in a space where they have a ton of fun and have learned another dimension of the word respect, to a place where I can experience an incomparable, yet approachable, level of martial arts that you can't find anywhere else around here. The different varieties of classes and workouts make it easy to participate and are adaptable to my personal level. We're grateful to have found JMAC and the dedicated people who constantly work hard to keep this place the best!
– Kristen J.
I never have enjoyed "gym" exercises, but I grew to really love it! I enjoy the variety, the encouragement from the group, the humor, the challenge, and even the hard work. Starting out my day with a hard workout serves to make me focused and calm during stressful times. The JMAC18 even helped me recover from an injury. All of the exercises can be modified, and all are encouraged to work hard, but safely. What else can you do in 18 mins that will make you laugh and sweat, get stronger and fitter, focused and ready!
– Beth W.
Come Thrive with Us!
JMAC is a place where you can thrive, in-person or online. We would love to talk to you and help you decide if JMAC is right for you! If you'd like to learn more, contact us or call (734) 720-0330.
Or check out our video, Zoom, and in-person Training Options and resources.