Want To Learn Self-Defense? Visit the Dojo!
Want to learn how to protect yourself?
Looking for Classes for Self-Defense in the Ann Arbor Area?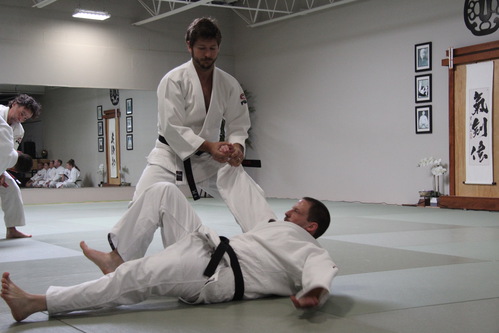 Come Watch A Class at Japanese Martial Arts Center!
When you're on your own or in an unfamiliar area, it's important to feel safe and secure. No one goes looking for trouble, but if trouble comes your way, it's good to know that you can handle yourself. Self-defense is a valuable skill. With proper training, you'll be prepared in case a potentially harmful situation arises. However, not all self-defense classes are created equal.
Quality of Training Matters
There are a lot of self-defense classes out there. Most of them do offer some good advice and procedures to avoid confrontation. Not all of them train the body as well as the mind to handle these difficult situations. This is where studying a martial arts style like Judo or Nihon Jujutsu is important. While we're training your body how to respond to a situation, we're also helping you develop better mind-body awareness.
Which Martial Arts Style is Best for Self-Defense?
Truthfully, there are several – each with their own merits. At JMAC we train students in Karate, Judo, Nihon Jujutsu, and Iaido (Japanese Swordsmanship). So, which one is right for you? The best way to answer that is for you to come in and watch a class in action. Check our Schedule. We believe it's important for all new students to see how we train and then try two free introductory lessons.
"I knew JMAC was the right place for me after my first intro lesson. Suino Sensei was super nice and happy and made me feel really comfortable and accepted. I decided that I wanted to train at a place where I was always happy to be there and so was everyone else," says Catharina.
It's important to know everything fits. If you have worries about training, we can address them. If you're not sure our training style is the right fit, we'll be able to address it during those intro lessons without you having to pay for a full membership upfront. Catharina says, "I was initially worried that I would be thrown headfirst into training and just totally be destroyed every class but it was much more of a gentle easing into more advanced and fast-paced techniques. I was also worried about not fitting in, but everyone is amazing and I felt right at home almost immediately."
Ann Arbor Self-Defense at Japanese Martial Arts Center
"Absolutely wonderful instructors. The staff is so patient, friendly and talented. JMAC is such a warm and welcoming place to learn. I have two children in the judo program and they love it. They are learning so much and having an amazing time. I wish I would have signed them up sooner." - Jason O.
Read more of our student reviews.
Self-defense is a life skill. To get the most out of the training, you need to be willing and comfortable. If you're not comfortable with the style of training or the personality of the instructor – you're not going to get everything you should out of the lessons.
Contact Us or give us a call at (734) 720-0330 to learn more about our classes and when you can come see us in action at JMAC!
Japanese Martial Arts Center
Self-Defense Classes in Ann Arbor, Michigan