Ready for a Workout but Worried About COVID? Karate at JMAC is a Smart Option!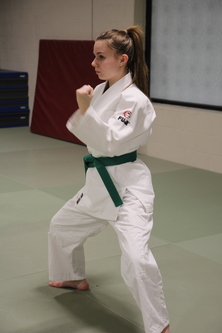 As we adjust to our governor's Safe Start plan for gyms to safely re-open and sports to resume, we hear a lot of questions about the safety of resuming contact sports. Questions like:
What do the Safe Start orders mean for my workout?
How are gyms and dojos keeping members safe?
And especially,
How do you practice martial arts while maintaining social distance?
Karate may appear to be an up-close-and-personal fighting sport, but the truth is that martial arts – more so than other contact sports – are uniquely suited for the kinds of changes required by the Safe Start orders. Martial arts are much more than just sparring! In fact, what if we told you that even the punching, kicking, and striking moves don't require a hands-on partner?
That's because martial arts aren't just about fighting. Martial arts are also a tool for building character and facing everyday challenges. One especially timely aspect is learning to respond to outside forces with flexibility while maintaining a sense of peace. External forces like pandemic-level viruses that force us to change the way we interact and practice? Yes! The practice of martial arts is designed for challenges precisely like what we're facing today!
Karate has so many benefits, even while social distancing
If you're considering going back to the gym or looking to start karate in Ann Arbor, consider JMAC. Classes at JMAC are a perfect choice for fitness and self-development while maintaining social distancing.
Karate isn't only about striking, kicking, or punching an opponent. It also focuses on developing values like self-control, integrity, honor, and courtesy. There are so many physical and mental benefits to karate practice. It:
strengthens the mind
develops composure
helps you develop clearer thought processes and better insight into your capabilities
grows your sense of self-confidence
strengthens all muscle groups
builds stamina
improves coordination and reflexes
And that's all possible without sparring! In fact, at JMAC, sparring has never been a requirement. The decision to spar has always been a personal decision based on the student's comfort level and JMAC's assessment of each student's readiness.
Why is JMAC karate in Ann Arbor the perfect exercise for social distancing?
Many benefits of karate come from training and self-development, not necessarily from sparring. Without "hands-on" work, karate practice still involves:
Learning the basics – stances, punches, blocks, and kicks. You can't master any new skill until you've properly mastered the basics.
Kata (form) training – choreographed movements to train your body and mind. Instruction and practice help develop proper form, precision, and fluidity. They also isolate and train different muscle groups for a great workout.
Not to mention intangibles like self-confidence, respect, and focus!
How JMAC karate follows Safe Start guidelines
At JMAC, we respect your safety and the safety of those around you by:
Limiting class size
Proper and frequent sanitation
Disinfecting our spaces and equipment
Wearing masks
Maintaining socially distanced practice
Communicating with our members
As we all try to get our lives back on track, karate can be a great way to return to your best self. You'll come out feeling more fit, have a better sense of self-worth, and be more confident. And you can be confident knowing JMAC takes your safety seriously.
JMAC offers martial arts training and self-defense in Ann Arbor. We've been providing Ann Arbor and the Southeast Michigan area with classes for all ages and sizes for over 14 years!
If you'd like to learn more, call (734) 720-0330 or email us at info@japanesemartialartscenter.com.