4 Benefits of a Kids Karate Program
Searching for the right program for kids karate near Ann Arbor?
Finding the right martial arts program for your child is important. You want them to find an environment that's encouraging but also offers an appropriate level of difficulty and discipline. Unfortunately, there are a lot of dojos out there that are designed to simply push your child up through the ranks, to get them the rewards without teaching many of the important benefits that come from martial arts training.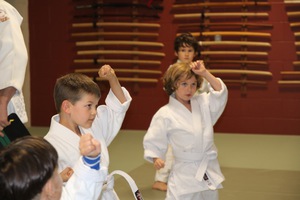 Kids Karate Isn't Just About Self-Defense
While many parents want their child to learn important self-defense skills, that's not the only benefit of a kids karate martial arts program. A quality kids karate martial arts program will also teach the benefits of team interaction, discipline, memorization, and the importance of healthy habits and physical fitness.
Team Interaction
Throughout your child's life, they're going to be faced with situations where they're going to have to work with others. Your child will be in a positive and encouraging environment at JMAC to learn these skills and how they can be applied to everyday life outside the dojo.

Discipline
Discipline goes beyond simply listening or being attentive in class. It's also about responsibility. A good kids karate martial arts program will show how self-reliance and accountability can be fun and rewarding. This is another important skillset that can be applied to their schoolwork and at home.

Memorization
In the course of training, we teach kids counting along with movement drills. Through repetition and positive reinforcement, the movements get easier for your child until they become almost second nature. Again, they're terrific in the dojo but more importantly, they're life skills that are incredibly helpful at school!

Healthy Habits and Physical Fitness
Between movies, video games, and tight school schedules that cut into recess and play time, kids are more and more sedentary. Kids Karate at JMAC is the perfect way to get your child up and moving, having fun while they learn valuable fitness and healthy habits!
Kids Karate in Ann Arbor at Japanese Martial Arts Center
At JMAC we offer three martial arts programs for kids:
Little Dragons – Ages 4-6:
This is where we teach the FUNdamentals of martial arts with proper stances, punches, and falling safely. This class is fun, engaging, and a high-energy environment where kids can learn with other students their own age.

Kids Karate – Ages 7-12:
Our kids karate program is carefully crafted to give your child a fun and engaging martial arts experience while promoting lifetime fitness and discipline practices. This age range also allows for a greater mix of skill levels and helps produce a team-focused atmosphere.

Kids Judo – Ages 7-12:
Judo is a terrific way for your child to not only learn some basic physical fitness and social skills, but improve their etiquette and discipline. There is no "one size fits all" approach – we pay close attention to what your child does well and help them improve.
Come Watch A Kids Karate Class at Japanese Martial Arts Center!
Before you sign your child up for classes, come in and watch our students in action! If you and your child are excited and think it looks like fun, you can schedule free introductory lessons before signing up for a trial membership. Take a look at our schedule and Contact Us or give us a call at 734-720-0330 to learn more about our kids karate martial arts programs!