The Odds of Earning a Black Belt in a Martial Arts Class (Ann Arbor)
Did you know that across the globe 3-5% of martial artists go on to earn black belts?


At the Japanese Martial Arts Center, the percent of people who have started training and become black belts is about 2%.
That means that out of 100 people, 2 students made it to shodan! Ann Arbor University of Michigan graduate students stand a much higher chance of earning a PhD! Why the low percentage at JMAC?
1. The students who've earned their black belts have worked hard for 3.5 - 6 years.
2. We're not interested in simply passing students unless they put in the work
Check out this infographic on JMAC black belts. (The text version is available at the bottom of the page.)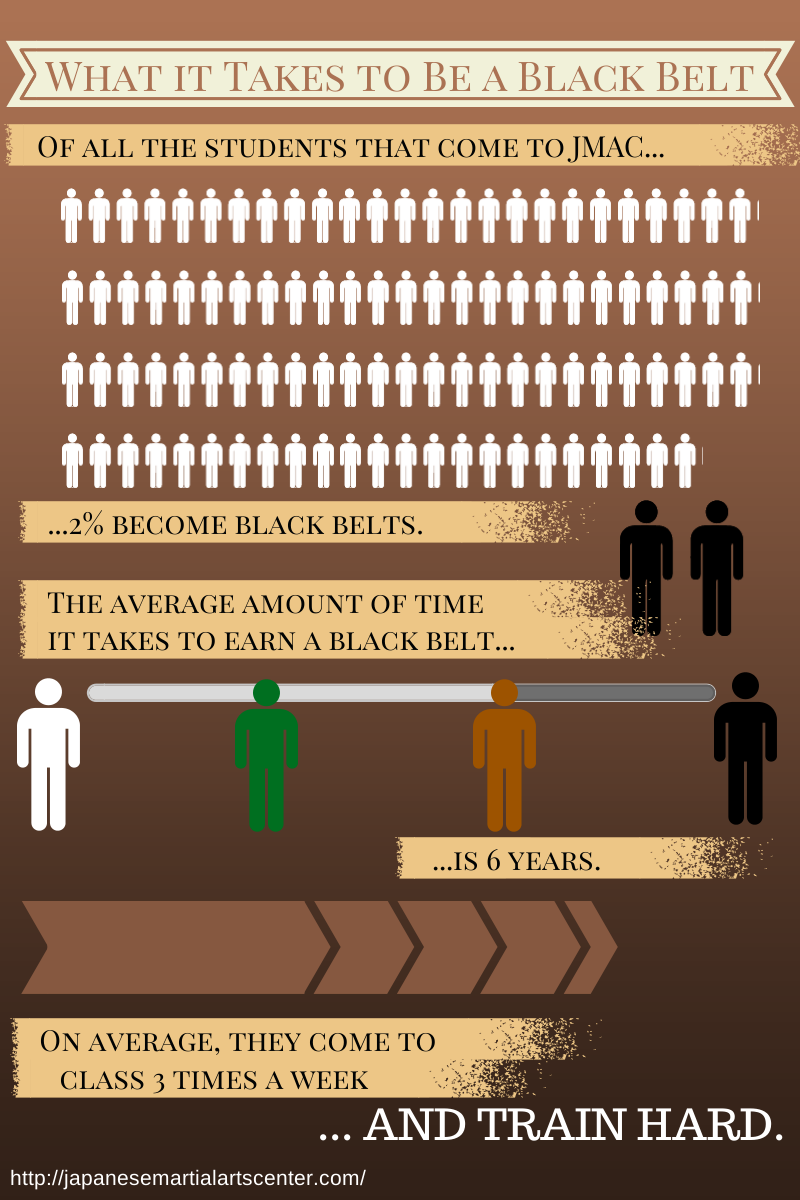 Infographic on black belt statistics at the Japanese Martial Arts Center
Some defining characteristics of these black belts:
They make it to class. Ann Arbor has other entertainment options, such as movie theaters, bars, and restaurants, but these people come to the dojo because they value their martial arts commitment.

They have a different mentality. These people learn to train with incredible focus.

They go above and beyond. They help other students learn, and they train in a way that helps all our students improve.
If you're interested in finding a martial arts class, Ann Arbor-based Japanese Martial Arts Center has classes in Judo, Jujutsu, Iaido, and Karate. For more information, visit https://japanesemartialartscenter.com/ or email info@japanesemartialartscenter.com.
Infographic text:
Thanks to our new attendance system, here are some stats on JMAC's black belts:
2% is the average number of students that go on to become black belts

6 years is the average length of time it takes for a person to earn a black belt

3 times a week is the average number of sessions a student came in before earning a black belt