Boot Camp Workout at JMAC
Have you been looking for a boot camp-style workout?
Are you the kind of person who needs a group to help keep you accountable?
Does an hour-long class seem too long?
Would a quick, effective boot camp class help solve that for you?
Bootcamp Exercises that Don't Take Up Your Whole Day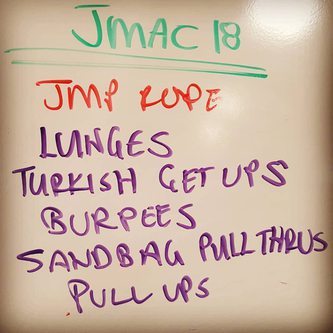 Think about how much time it takes to actually go to a one-hour boot camp or fitness class! By the time you drive there, get dressed, work out, shower, get dressed for work and drive to work, you might have spent two hours … or even more!
We don't know about you, but most of us don't have that kind of extra time.
The JMAC18 – Value Intensity Over Duration
Would an 18-minute morning boot camp be more your style? There's a lot of science to show that intensity is more important than duration when you're trying to get benefits like aerobic fitness, weight loss, and muscle building. If your entire workout, shower, and change routine was 35 minutes or less, how much more reasonable would that be? You'd be able to get set for the day, build muscles, lose weight, and still be able to get to all the things you have to do.
This is the workout our Director created and refined for 2 years before it was officially launched as the JMAC18. It's almost addictive. Our members laugh because we can't wait to get here on Monday, Wednesday and Friday and crush the JMAC18.
Give it a Try!
We arrive at 7:30 am, explain the workout, and the timer starts running at around 7:36 am. At around 7:54 am, the boot camp is over!
We do 50-second rounds with 10-second transitions. It's never the same workout twice. There are bodyweight exercises, kettlebells drills, sandbags stuff.
You will build strength, agility, and endurance. A lot of us create small goals inside the workout, like increasing our max pullup number, or jumping rope in unique ways. If it's too intense, you can reduce the number or do simpler versions of the exercises. If it's not intense enough, you can add reps, weights or even a weight vest. Some of our members go for a run after the boot camp is over.
You can try the JMAC18 once for free. Just show up a bit early to fill out an info sheet and waiver. Wear athletic clothing. We train barefoot but bring running shoes just in case one of the stages is a sprint outside.
Otherwise, nothing else is required!
The Enemies of Success – Fear and Boredom!
Don't let the word "boot camp" scare you. This can be as friendly as you need it to be, and you can scale up later if you want to. We're not muscle heads and we don't allow bullying. Start where you are and enjoy the process of making new friends while you get in shape.
And if you've tried other workouts and gotten bored, you should really consider the JMAC18. It's quicker than most workouts, and it's never the same twice. Not only that, there's free parking, and the monthly rate is lower than virtually every group workout in the area.
Small Change Starts with You
You've heard the saying, "change starts with you." In this case, getting in shape and finding a way to be consistent can make a huge difference to your energy and health.
Have a ton of fun, get your workout in quickly, and keep it simple. The first class is free. If it's not for you, no problem! If it is … that's great!
Did we mention it's only 18 minutes?
Give Us A Call or Contact Us or stop in to try out the JMAC18 with a free first-time workout!