Japanese Martial Art Highlights for 2014: The Good, the Bad, and the Bizarre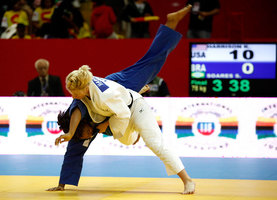 (Photo courtesy IJF)
The Good
Olympic gold medalist, Kayla Harrison, brought home gold from the Judo Grand Slam Tokyo. Claiming first place in women's under 78 kg, she upset the home crowd in Japan and became the first American judoka to take first place at this particular tournament.

The European Judo Union (EJU) celebrated the 50 years that Judo has been in the Olympics. Judo's Olympic debut took place at Tokyo in 1964.

Judoka Colin Oates won gold in Glasgow in the under 66 kg weight class. Despite his disappointing placement in the 2012 London Olympics, it seems that he is primed for the Rio Olympics.
The Bad
Yarden Gerbi won silver at the World Judo Championships. The Israeli judoka lost her 63 kg category title after her famous 'Gerbi choke' was invalidated for the tournament.

Marius Vizer, President of the International Judo Federation, sent out a notice to inform clubs that ranked judoka could not participate in international competitions for other combat sports (such as Ju Jutsu) without prior authorization from the IJF. This was to prevent migration of judokas to other sports or "spiritual contamination". The statement was later retracted.
The Bizarre
Isao Machii, an Iaidoka who holds four Guiness World records based on swordsmanship, played real-life Fruit Ninja. Machii won.
China's "strongest" Shaolin fighter fought against a Japanese cosplaying martial artist. The Japanese martial artist won.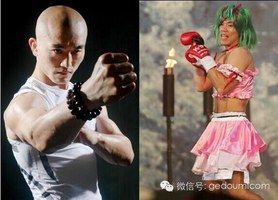 Yes, the guy on the right won.
A woman chased a man around with a katana. She won the battle by scaring him out of his wits. He won the law suit.
Here's to a fruitful and interesting upcoming 2015 for the Japanese martial arts!