What Makes a Good Karate School?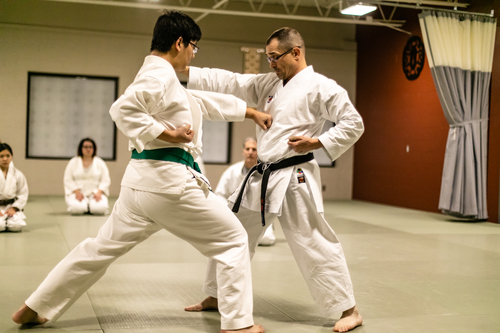 Are you looking for a solid martial arts program for you or your child?
Do you find yourself overwhelmed by the dizzying number of schools out there?
Selecting the right karate school is one of the most important steps in your martial arts journey. A good teacher aids your spiritual and physical well-being and promotes self-development, while a bad teacher can cause frustration and could even lead you to dangerous habits. Understand the factors that create a positive martial arts experience and find a karate school in Ann Arbor that's right for you!
Here are 5 traits of a great karate school:
Understanding of you or your child's goals – Are you looking for a place with strict instruction? Or are you looking for a fun way to get in shape? Some karate schools emphasize competition, while others center around achieving personal goals. Knowing your own goals can help you narrow down which schools will be the best fit for you or your child.
Well Suited to You – Look at different schools to get a varied perspective on teaching styles and training methods. Choose a style of teaching that matches the pace of your learning and is right for your experience level. Make sure to preview classes before you commit—take an introductory lesson or two if possible to know what you're getting into!
Good Environment and Location – Is the class run in a school gym or traditional dojo? Is the equipment outdated or overused? Is the location too far from your home? Make sure to choose a karate school with an environment where you feel comfortable spending a sizeable portion of your time.
Supportive Attitude – Ask questions and talk to other students, parents, and instructors about their own feelings on a given dojo. You should look for an enjoyable atmosphere where people feel safe and treat each other with respect.
Look For High Quality Instruction – The instructor is the most important part of any dojo. You want someone with good interpersonal skills and an attitude focused not just on karate, but your own personal progress as well. They should also be well qualified and have a strong background in martial arts—you want your instructor to know what they're teaching! A good teacher should maintain discipline in class while at the same time creating varied and fun lessons. Beware! Being a 'master' in martial arts does not necessarily make someone a solid teacher.
Enroll in a Karate School in Ann Arbor!
If you are looking for a great Ann Arbor karate school, look no further than JMAC! The Japanese Martial Arts Center will strengthen you both physically and mentally and will put you on the path to achieving your personal improvement goals. If you are a beginner, don't worry—we teach in a safe, systematic way, making sure our instruction fits your confidence level and your experience.
Visit JMAC and watch a class to see if we are a good fit for you! If you like what you see, you can sign up for two free intro lessons with no obligation or commitment. When you've completed those lessons, you can then sign up for a two-month trial membership before committing to a year of training. If you're looking for a karate school in Ann Arbor, JMAC can give you a quality martial arts education in a positive, supportive environment!
Call us today at 734-720-0330 or contact us to schedule your free class visit!