What are the Benefits of Kids Martial Arts?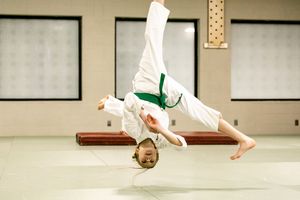 Are you looking for a fun, engaging activity for your child?
Want something that will strengthen your child physically and mentally?
If you answered "yes" to these questions, kids martial arts in Ann Arbor might be right for your child.
Martial arts is much more than just fighting! It's an activity that engages the mind, body, and spirit and aides in self-development.
Here's what martial arts can provide for your child:
Confidence ‒ The dojo is a very accepting learning environment. Your child will receive praise, encouragement, and help when necessary. They increase their skills in a non-competitive way that focuses on pushing themselves to be the best martial artist they can be.
Discipline ‒ Martial arts is heavily structured. It focuses on perfecting routines through repeated practice. JMAC has clear and enforced rules about behavior that everyone must follow. Children can latch on to this discipline and use it outside the dojo!
Focus ‒ Moves are taught together in a sequence and are often very specific. Remembering these moves and executing them properly builds mental focus. This all takes place in a high energy level environment with varied tempos that lets your kid feel the fun as much as the learning.
Ability to learn at own pace ‒ Your child can improve as quickly or as gradually as they'd like! Belts act as specific goals they can complete and are great motivating tools to encourage their growth.
Respect ‒ When respect is taught in a fun, energetic way, kids learn it much more effectively! We try to earn respect rather than demand it, which can help with disrespectful children.
Enroll in Kids Martial Arts in Ann Arbor
If you think kids martial arts might be right for your child, visit JMAC!
At the Japanese Martial Arts Center, your child can learn karate or judo in our kids program (ages 8-12) or learn the fundamentals in our Little Dragons program (ages 5-7). They'll learn basic movement, stances, and falling safely, all while having fun!
Your child will be in a positive and safe environment. The risk of injury is low. We train safely and systematically and we can proudly say we've never had a serious injury!
Visit JMAC to watch a session before you and your child commit. If you like what you see, then you'll get two free intro lessons to make sure your child enjoys it (just one for Little Dragons)! After this, we'll ask you to sign up for a one-year membership, but you can opt out anytime during the first 60 days. We want to make sure kids martial arts in Ann Arbor meets your expectations!
Call us today at 734-720-0330 or contact us to schedule your free class visit!