I AM JMAC: Amy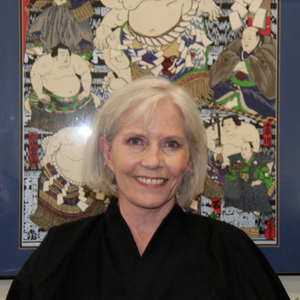 Amy joined JMAC's Iaido program in March of 2014. She earned the rank of Shodan in June of 2018. "I felt really good about it," she says, "and the reason why, is that over the course of my life and the many, many things I've take up - fencing, tap dancing, tennis, you name it I probably did it," she laughs, "Iaido's the first thing that I actually stuck with as it suited me in a way that those other things didn't. It's been a 4-year journey, and although I know Shodan is a first step, I'm really proud of myself for sticking with it."
Other facts, hobbies, interests
Amy was a physician for many years and recently retired. She's taking some time off to before beginning her next adventure, which will most likely involve aerial arts, getting her running game back on track, and a lot of volunteer work.
Amy is both adventurous and accomplished. In addition to the aforementioned interests she continues to garden and increase her knowledge of aromatherapy which she did a lot of in California. Amy is a veteran and was stationed there when she served in the U.S. Army Medical Corp. "So, I was in awesome shape at one point in my life." Amy is 5'1" and recalls a training in the desert for a month, "It was challenging but we also had a lot of fun."
What first got you into martial arts?
"I was taking a tai chi class when my son was a baby and there was guy in the class who taught aikido. My son started aikido at his dojo when he was 8 years old and the parents became interested, so they created a parent's class that ran concurrently with the kid's class. It was great and I wish I had come to it sooner. Unfortunately, I had to stop due to various neck issues and other commitments.
Why did you choose Iaido and JMAC?
"I wanted to find something that would work on my lower body strength and balance, because as we age these become real big issues. I thought iaido would be something that would help me with that. My aikido instructor, who also taught iaido, was no longer teaching, so I looked at a couple dojos that were close to where I live but none of them appealed to me. My search was expanded to Ann Arbor, where I spoke with Suino Sensei and automatically noted that JMAC was far superior to the other places I had visited. It was like night and day. I took my intro lessons, wobbling all over the place", and she added, smiling, "and Sensei said 'I think we can help you'. I felt it was worth it to drive all the way to Ann Arbor."
What are your greatest challenges in martial arts?
"Concentration. I know that this is one of the things that this art is good for. I know that I need to challenge myself to concentrate better and be more conscious about that. With everything going on in our lives, it can be difficult to focus." As for other challenges, Amy states "the thing I'm going to work on now, is really nailing down the basics in our forms."
What unexpected benefits have you experienced as a result of your training?
"What comes to mind first is the camaraderie and the friendships. There's a diverse population at JMAC, all ages and persuasions. Everyone here is nonjudgmental and you don't feel lesser for who you are. It's a non-competitive atmosphere and people are supportive of each other and this makes for a wonderful kind of learning environment and dojo experience. "And, of course, the instructors here make a huge difference - Absolutely, they're all great. I ended up taking some private lessons with Holland Sensei, because I couldn't always get here during my busy workweek. That made an enormous difference. The one on one time was a great way for me to learn. I think that if those things had not been true, if the teachers were not supportive, I wouldn't have kept coming. It's very gratifying."
"I didn't know very much about iaido at the beginning and found it interesting in so many different ways, including philosophically and the exactitude of it. It's very beautiful when it's done by people who know what they're doing. It's an exquisite art form. And since I went into it for the exercise, I wasn't expecting to love the history of the art – the samurai culture, uniqueness of the sword itself, and its fittings. I have a whole new appreciation for Japanese swords that I never had before. Previously, it was just a curved blade, and I didn't know how it was different from a straight middle ages-type sword. I found myself wanting to learn more about them - their history and how they're made."
An additional observation that Amy noted is that almost everyone in the program has some type of science-based background, be it computers, medical arts, or engineering. "I find it a fascinating part of this program that it attracts an exacting, analytical mind."
How has your training carried over into your professional or personal life?
Amy chuckles, "Well, everyone at work always thought it was really cool." She continues, "It gives me certain centeredness. It's something that's always there in your head, and there is a certain way that it grounds me, even when I'm not noticing. It definitely has a positive impact on my life."
Do you have ideas/thoughts about the experience of training at JMAC?
"I appreciate the wonderful teaching here and just the atmosphere and the friendships. If it weren't for that I wouldn't be driving that far to train. The more I learn about it the more fascinating I find it to be."