I Am JMAC: Adrian & Christian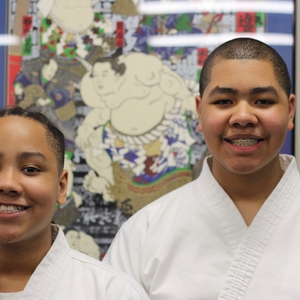 Martial arts training can be an exciting adventure for the entire family. Parents, children, siblings alike can enjoy the journey together. Brothers Adrian, 14, and Christian, 12, have been training at Japanese Martial Arts Center for over six years. Their martial arts journey started in 2013.
Their mother Erica explains, "I put them in a couple of martial arts schools. I wanted them to develop discipline. They loved Japanese anime – it seemed natural to put them in martial arts." Ever since, they have grown into smart and dedicated young men and have excelled in their training at JMAC – and seen improvements outside of the dojo.
When they're not training, they're just like other boys their age. When asked what they like to do in their free time Adrian quickly popped up "I like to sleep! I sometimes play football and wash my dog." Erica is quick to point out that Adrian does have a knack for playing online games all day long. "I play video games" Christian adds, "Roblox." On top of their enjoyment for extra sleep and online gaming, the two brothers love to burn their recess time playing soccer and football at school.
What is your favorite training memory?
Adrian says, "We loved the open house, everybody had food, and we did a demo."​
What are some of the challenges you've overcome in your martial arts training?
"We were out of shape when we started," says Christian. For Adrian, some of the early training techniques were difficult to get used to. "I'm guessing the first time I tried to have my knee over my toes in a front stance, my legs were in pain." Through the initial discomfort, the brothers stuck with it and improved their skills and confidence.
For Christian, his favorite activities are "doing the katas, sparring," and he's enjoyed making friends. For Adrian, it's about "staying in shape, the stances, the other things we learn during Karate classes." When they were asked about what other martial arts styles they want to try their mother quickly chimes in "they were just talking about judo!"
Martial arts training takes time, effort, and dedication. But the rewards can be incredible. Through their training at JMAC, Adrian and Christian have practically grown up at the dojo – starting out in the Kids Karate program and advancing through to adult karate in recent days. They're a part of the JMAC family and it's been a joy seeing these two boys become young men.